Humboldt High School

In Memory
Pat Lane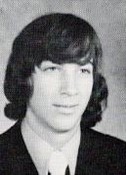 Patrick Thomas Lane, 45, died Wednesday, April 26, 2000, at his home in rural Humboldt.
A Mass of Christian burial will be 11 a.m. Friday at St. Mary's Catholic Church, Humboldt, with Rev. Gene Ulses officiating. Burial will be in St. Mary's Cemetery, Humboldt. Visitation will be from 4 to 8 p.m. Thursday at Mason-Lindhart Funeral Home, Humboldt, with a parish rosary at 4:30 p.m. and a parish vigil service at 7 p.m.
Survivors include son J.J. Lane, Fort Dodge; sisters Mary Kay Ersland, Grey Eagle, Minn., and Cathy Heider, Humboldt; and brothers Robert, Messena, and Larry, Humboldt. He was preceded in death by his parents, Robert and Eileen McCage Lane, and infant son Steven.
Patrick Thomas Lane was born March 11, 1955, in Fort Dodge. As a child, he lived with his family on the farm in Humboldt County. He attended St. Mary's School in Humboldt through the eighth grade, and graduated from Humboldt High School in 1973. Following his education, he worked with his father on the farm. In 1977, he was married. They were later divorced. Following the death of his father in 1979, he and his brothers took over the family's farming operations.
He was a member of St. Mary's Catholic Church, Humboldt.