Humboldt High School

In Memory
Tommy Hull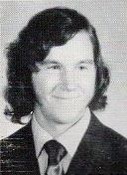 Thomas Leo Hull was born August 31, 1955 at Fort Dodge, Iowa and raised and educated at Humboldt. He graduated from Humboldt High School in 1973 and attended Simpson College in Indianola. He married Kathy Gustin at Oelwein, Iowa and to this union was brought their daughter, Jenna. The family made their home in Lincoln, Nebraska where Tom was employed by the Cushman Corporation. He then served as purchasing agent for the Ski-Jack Corp in Atlantic, Iowa and Hewlett Packard in Omaha. Tom became the purchasing agent for KBR, a subsidiary of the Halliburton Corp, and served as a contractor in Iraq for a year and a half. It was while he was in Iraq that Tom was diagnosed with cancer and he returned home to Humboldt. He made his home with his father Fred until becoming a resident at Humboldt Homes where he passed away on the morning of October 31, 2007 at the age of 52.
Tom enjoyed riding his Harley Davidson Fat Boy, his buddies at "Pete's", his kitty and loved spending time with his daughter, Jenna.
Tom is survived by his daughter, Jenna Hull of Lincoln, NE; mother, Donna Hull of Humboldt; father, Fred (Barbara) Hull of Humboldt; and his brother, Mark Hull of St. Paul, MN. He was preceded in death by his sister, Marilyn Hull, and grandparents, Floyd and Rose Ressler, and Alvey Fred and Lulu Hull.
Tom's family would like to particularly thank and acknowledge Hospice of Humboldt County for their loving care and support during these difficult times. Following the services, the Hull family will greet friends and relatives for lunch in the fellowship hall of the church.
Memorial Services are Saturday, November 3, 2007 at 1:00 p.m., Congregational United Church of Christ, Humboldt, Iowa. Clergy officiating is The Rev. Mark Gustafson and soloist is Jill Burr ("The Lord's Prayer" and "Amazing Grace"). Special music is by organist Bill Verbrugge ("Partita #3 in E Major" and "I Can Only Imagine").