Humboldt High School

In Memory
David B. Hendrickson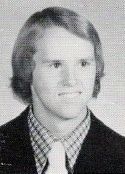 Funeral services were held Saturday, June 28 at 10:30 a.m. in Our Saviour's Lutheran Church for David B. Hendrickson, 24, of Joliet, IL. Young Hendrickson died in Joliet, IL, June 23.
Pastor Paul Otto was the officiating clergy. Casket Bearers were Tim Moklestad, Scott Thompson, Scott Walters, Bryant Hellickson, Trent Moss and Clark Griffin. Special music was provided by Mrs. Roger Heiter, soloist and Mrs. Russell Sime, organist. Mrs. Eilert Sampson and Mrs. Carl Day were in charge of the arrangement of flowers. Eilert Sampson was usher. Interment was in St. Olaf's Cemetery, Bode.
Surviving are his parents, Mr. and Mrs. Bjarne Hendrickson, Humboldt; brothers Phillip, Humboldt, and Bjarne Jr., Chatanooga, TN.; sisters, Mrs. John (Phyllis) Butler, Salix, and Mrs. Fred (Florence) Hanson, Humboldt.
Born in Fort Dodge, Mr. Hendrickson received his education in Humboldt, graduating from Humboldt High School in 1973. He served with the U.S. Air Force, then was employed in Waterloo for some time. For the last year and a half he has been employed by Rockford Life Insurance Company in Joliet, IL.