Humboldt High School

In Memory
Bernie Hanson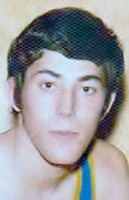 DUNCOMBE - Merle "Bernie" Hanson 59 of Duncombe, formerly of Humboldt died Monday, October 28, 2013 at the Trinity Regional Medical Center. Memorial services will be Friday November 1st at 7 pm at the Historic Bruce Funeral Home in Fort Dodge with Rev. John Elkin officiating. Visitation will be Friday from 5 pm until time of services.
Merle Bernard Hanson was born October 14, 1954, in Minnesota to Kenneth and Ona (Tubbs) Hanson. He graduated from Humboldt High School. He was a two time Iowa State High School Wrestling Champion and received a scholarship at Iowa State, where he attended for two years. After college, Bernie settled in Humboldt. He worked various jobs and was a master at metal fabrication. For the past three years he was employed at Jim's Carpet One Floor & Home in Fort Dodge. Bernie was a long time member of the Humboldt Racquetball Club. His grandchildren really did light up his world. They were not only his grandchildren but his best friends.
He is survived by his parents, Kenneth and Ona Hanson of Rutland, his children; Jessica (Eric) Schade of Thor, Justin (Shannon) Hanson of Humboldt, Brandon Hanson of Humboldt, John (Felicia) Phillips of Fort Dodge, and Brittany (Nick Kirsch) Hanson of Fort Dodge, and three grandchildren; Ashley Schade, Kingston Phillips and Kinnick Phillips. He is also survived by siblings; Kirk Hanson, Lona Wilson, Leann (Mark) Duggy, and Lori (Frank) Derr.
He was preceded in death by his special friend Sandra Fry.
Online condolences may be sent to funeral home website: brucesfuneralhome.com.
(Above from the Fort Dodge Messenger, October 30, 2013)
NOTE: Initial information was that Bernie was hospitalized for an infection on the leg and passed away due to complications during that hospital stay.