Humboldt High School

In Memory
Alan "Russ" Gamble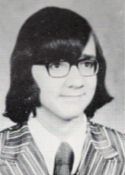 Funeral services for Alan P. Gamble, 35, Spirit Lake, formerly of Humboldt, were held Monday, Nov, 19, 1990, at the Turner Funeral Home in Spirit Lake, with burial in the St. Margaret's Cemetery, Spirit Lake. He died Saturday, Nov. 17, at his home in Spirit Lake. The Turner Funeral Home was in charge of the arrangements, with the Rev. Clair Boes officiating. Casket bearers were Dale Behrends, Marvin Gamble, Dave Maach, Bill Mekemson, Todd Nygaard, and Mike Terwilliger.
Survivors include his mother, Helen Gamble of Spirit Lake; two brothers, Greg of Seattle, WA, and John of Iowa City; one sister, Mrs. Craig (Joann) Randall of Des Moines; three nephews; two nieces; aunts and uncles and several cousins. He was preceded in death by his father, Russell; grandparents, Jesse and Minerva Fishburn of Spencer and Earnest and Floy Gamble of Spirit Lake; one uncle, Gifford Gamble; and two cousins.
Alan Paul Gamble, son of Russell and Helen Gamble, was born July 10, 1955, at Spirit Lake. He received his education in schools at Arnolds Park, Humboldt where he graduated from High School, and Iowa State University, Ames. At the time of his death he was self-employed. He was a member of the Catholic Church.