Humboldt High School

In Memory
Mark Eggerich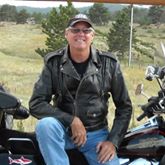 Mark passed from this earth on December 26, 2019. He was a regular guy, special to many, and his Facebook posts since retirement painted the picture of a happy traveling man and devoted husband with many friends. The following post is dated December 29, 2019, from his family.
"This is Linda's daughter, Shawna. There have been a lot of questions from the many people that love and care for Mark, my Mom and his family. It is with a great sadness that we let you know Mark's death was determined to be a suicide. Suicide is never the answer. Please if you are ever sad, depressed. or angry there are people that you can talk to. Call 1-800-273-TALK or text "HELP" to 741741. There is always someone who is willing to help. Thank you for your many thoughts and your continued prayers."
Notes:
The 1-800-273-TALK (8255) number connects to the National Suicide Prevention Lifeline.
https://sucidepreventionlifeline.org
A Text to (741741) connects you with someone from The Crisis Text Line - https://www.crisistextline.org. This is a 24/7 New York-based nonprofit organization that connects people in need with a counselor via text message. The site says to text "HOME", but you can Text "HELP" or any other word or phrase. Here's what you need to know about the Crisis Text Line:
1. You can text about absolutely any issue.
2. There's no wrong way to begin a Crisis Text Line conversation.