Humboldt High School

In Memory
Gary Bristol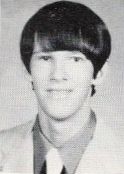 A freak accident took the life of Gary Bristol, 21, son of Mr. and Mrs. G. Robert Bristol of Humboldt, Monday evening, June 14, 1976, in LeMars. According to officers on the scent, Bristol and a friend were crossing a street on their way to supper about 6 p.m., when they noticed a friend of theirs, Loren Johnson of LeMars, approaching in a car. As Johnson neared the two, Bristol apparently turned around to wave at him, and then either tripped or stumbled near the curb and fell into the side of the car, striking his head.
Bristol was rushed to Floyd Valley Hospital in LeMars and then transferred to St. Vincent Hospital in Sioux City where he was pronounced dead on arrival. Both Bristol and Johnson were students at Westmar College in LeMars and close friends. No charges were filed in the incident. Services will be held Thursday, June 17, at 2 p.m. in the Humboldt United Methodist Church, with burial in Union Cemetery. Lindhart Funeral Home will be in charge.
Dr. Ralph Kitterman will be officiating at Thursday's services. Casket bearers will be Dan Watson, Dave Watson, Tom Staubus, Loren Johnson, Brad Brock and Dave Walker. Special music will be provided by H. Milo Hall with Mrs. Keith Sayers organist. Flower arrangements will be by Mr. and Mrs. Millard Vance and Mrs. Harold McBurney. Keith Sayers and Harold McBurney will serve as ushers. Survivors include his parents; a brother, Allan of Humboldt; and grandparents, Mr. and Mrs. Lester Whittlesey of Gilmore City.
Gary Bristol was raised and educated at Humboldt and graduated from Humboldt High School in 1973. He had completed three years at Westmar College in LeMars where he was majoring in communication arts. He was a member of the Deputation Group and the Fellowship group.