Humboldt High School

In Memory
Kerry Bloomquist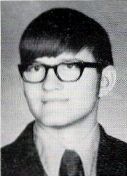 Funeral services for Kerry D. Bloomquist, 42, St. Paul, MN, formerly of Humboldt, were held Tuesday, July 15, 1997, at the Congregational United Church of Christ in Humboldt, with burial in the Union Cemetery, Humboldt. He died Monday, July 7, 1997, at his home in St. Paul.
The Mason-Lindhart Funeral Home of Humboldt was in charge of the arrangements, with the Rev. Jill Sneed-Bobholz officiating. Military graveside rites were performed by the VFW Post No. 5240 of Dakota City. Casketbearers were Randy Vinsand, Ronny Vinsand, Scott Thompson, Paul Hinners, and Brian Harms.
Survivors include his parents, Earl and Dawn Bloomquist of Humboldt; two sisters, Robin Plante of Concord, NH, and Cynthia Knight; two brothers, Douglas Bloomquist of Maxwell and Randy Knight; and his special friend, Paula Eveland of Little Canada, MN. He was preceded in death by his grandparents.
Kerry Dean Bloomquist, son of Earl and Dawn Bloomquist, was born Feb. 5, 1955, and lived at Perry until moving to Humboldt, where he was raised and educated. After graduating from Humboldt High School in 1973, he attended Iowa Central Community College, Buena Vista college at Storm Lake and Theological Seminary at New Brighton, MN.
He served in the United States Navy as a medical assistant aboard the U.S.S. Canupies. He later attended St. Mary's College at Winona, MN, and received a masters degree in psychology. At the time of his death, he was employed as a psychologist at the Focus Homes at St. Paul.
He was a member of the Grace Lutheran Church at Roseville, MN.