Humboldt High School

In Memory
Randy Vinsand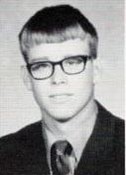 HUMBOLDT - Randy J. Vinsand, 57, of Humboldt, passed away February 23, 2012 at his home. Funeral services will be 1:00 p.m. Monday, February 27, 2012 at the Faith United Methodist Church in Humboldt. Interment will be in Indian Mound Cemetery, Humboldt. Visitation will be from 4-7 p.m. Sunday at the Mason-Lindhart Funeral Home in Humboldt.
Randy is survived by his wife, LeAnn of Humboldt; children, Douglas Vinsand of Des Moines, Kimberly (Jason) McKenna of Buckingham, and Michael (Amanda) Vinsand of Humboldt; grandchildren, Caleb and Kaleigh Vinsand and a granddaughter due in June; brother, Gary (Tammy) Vinsand of Gilmore City; and sisters, Shirley Vinsand of Humboldt, and Becky (Terry) Hansen of Royal. He was preceded in death by his parents and his twin brother, Ronny Vinsand.
Randy Jared Vinsand, the son of Eugene and Caryl Gene (Heim) Vinsand, was born February 7, 1955 at Lutheran Hospital in Fort Dodge, Iowa. At the time, the family was making their home at Rutland but soon moved to Humboldt. Randy received his education at Humboldt and graduated from Humboldt High School with the class of 1973. Following his education, Randy attended truck-driving school in Fort Dodge and began farming with his twin brother, Ronny. In addition to the farming operations, Randy was employed by the Chantland Company in Humboldt for nearly 30 years. On August 27, 1977 he was united in marriage to LeAnn McGreevey at St. Mary's Catholic Church and the couple made their home near Humboldt. Randy was also employed in janitorial and maintenance, and as a bus driver for the Humboldt Community School District for many years. Most recently, he worked for the Humboldt County Memorial Hospital where he earned Employee of the Year in his first year of employment.
Randy was a member of the Faith United Methodist Church. While in High School, he was active in FFA and later served on the Elevator Board. He enjoyed fishing, especially ice fishing in his icehouse he built himself. He also enjoyed camping, hunting, and restoring and driving his tractors in the Fourth of July Parades. Above all, Randy loved the time he spent with his family especially his grandchildren.